Technology is a Fundamental Pillar for the Development and Evolution of Retail Businesses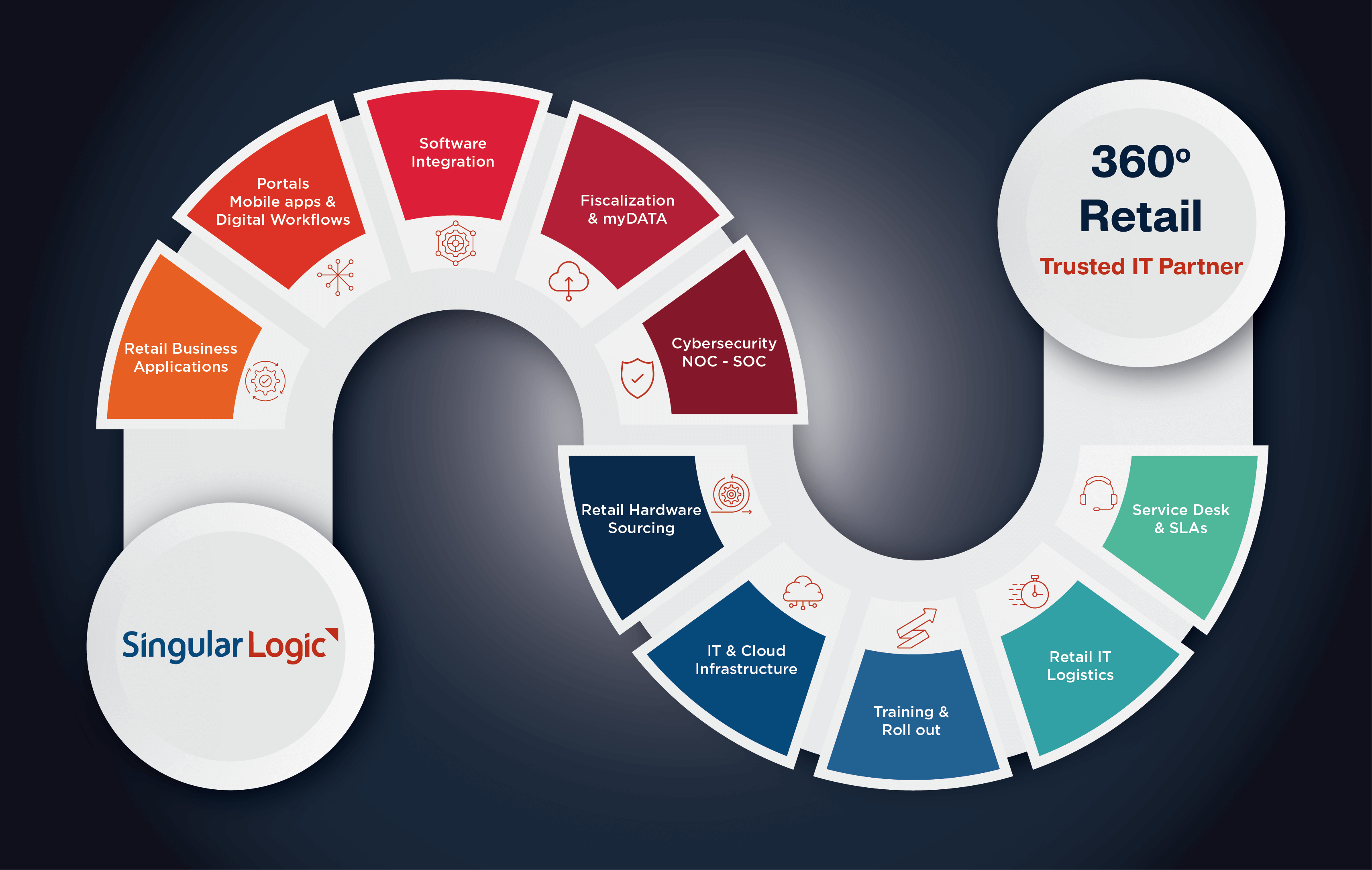 Technology is a Fundamental Pillar for the Development and Evolution of Retail Businesses
By Philip Hadjioannou, Retail & Fuel B.S. Director at SingularLogic
NAFTEMPORIKI | Focus on Business - Retail 04.23
---
Information technology constitutes one of the main pillars on which organized retail has relied to achieve rapid evolution and development, dating back to the 1970s. Today, the role of technology is even more critical as retail businesses depend on it for monitoring and streamlining their operations and costs, actively shaping, and improving customer experience, and ultimately enhancing their revenues and profitability. By investing in information technology, they can effectively and efficiently respond to the evolving market demands and focus on implementing their business strategies.
While the proper functioning of systems ensures the benefits mentioned above, any malfunction can have significant negative consequences. It can adversely affect the consumer experience, lead to revenue losses, impact the organization's reputation, and create work-related stress for employees dealing with such issues.
Implementing new information technology solutions, installing them in different locations, and their maintenance and support in the Retail sector incorporate multiple factors that increase complexity. These factors include many retail stores, hundreds of POS systems, numerous users, geography issues, and extended operating hours. Moreover, the reasonable requirement for uninterrupted operation of the stores during project implementation and for its fast completion add up to the complexity. Handling these factors requires experience, appropriate infrastructure, and well-crafted design. Here lies in SingularLogic's added value, as it thoroughly and successfully meets these demands.
---
SingularLogic is the Strategic IT Partner for Retail Businesses
At SingularLogic, we have been consistently supporting the development and evolution of organized retail in Greece for many years, having extensive experience in collaborations and large-scale project implementations. Our track record of successful projects in the sector positions SingularLogic as a strategic and preferred IT partner for retail businesses. We operate as an integral part of our client's internal teams, ensure their IT systems' successful implementation and operation, and provide continuous, high-quality support.
As a member of the Space Hellas Group since 2021, when Space Hellas and EpsilonNET acquired it, SingularLogic harnesses the complementarity of the two groups, exponentially increasing its capabilities to meet the needs of modern retail with a greater variety of solutions and services.
---
Holistic Retail IT Approach
We address large retail businesses with a structured 360o approach around two main axes: providing and shaping integrated software solutions and delivering IT infrastructure and support services for the shops' uninterrupted operation and new shops' geographical expansion.
With our extensive and highly successful Enterprise Software know-how, we offer a comprehensive portfolio of local and international Retail front and ERP back-end solutions. Additionally, we provide solutions supporting retailers' overall digital transformation and their interaction with consumers, such as CRM, Loyalty, Portals, Mobile apps, and Digital Workflow automations.
IT projects in the Retail sector are multifaceted, and interoperability requirements with other systems are crucial. In this regard, SingularLogic has a significant advantage as a Software Integrator since it designs and implements solutions that offer unified functionality with other software systems. Meanwhile, it possesses the experience and technical expertise to manage complex projects, ensuring successful implementation regarding their specifications, implementation time, budget, and quality of the deliverables.
For international retail chains, we provide fiscalization services, localizing applications and adapting them to the requirements of Greek legislation. We also offer similar services to Greek businesses for myDATA and e-invoicing providers.
The second axis of our holistic approach regards IT infrastructure services and support for new shop openings.
Starting with the IT equipment retail shops require, we collaborate with reputable international manufacturers to provide the most comprehensive and cost-effective options. Accordingly, the same applies to all infrastructure requirements for Servers, Networking, Data Centers, and Cloud services.
Furthermore, in collaboration with Space Hellas, we offer network implementation services, Cybersecurity services, NOC and SOC network management, and security services, ensuring uninterrupted, secure, and protected systems operation.
We complete our portfolio with comprehensive IT Logistics services (procurement, storage, delivery, recycling), a critical success factor for the smooth operation of the retail shops and the new shop openings without geographical limitations.
Ensuring uninterrupted IT systems operation multidimensionally is our priority. We provide tailor-made support plans, including Helpdesk - IT Service Desk services, 2nd and 3rd level support, and on-site support services. Our support plans cover up to 24x7x365, backed by our people's expertise, state-of-the-art infrastructure, and processes.
Committed to being the strategic partner of choice for retail businesses, we constantly evolve our Retail IT solutions and services, actively assisting our clients by supporting and optimizing their IT environment, enabling them to focus on their business objectives effectively.